---
---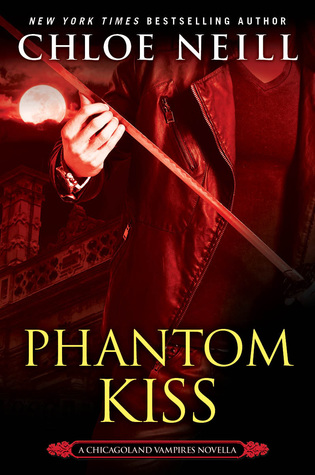 PHANTOM KISS (Chicagoland Vampires #12.5)
Chloe Neill
Published: January 17th 2017
Pages: TBA
In this all-new novella from the New York Times bestselling author of Midnight Marked, Merit, Ethan, and the rest of Cadogan House crew discover that not all undead creatures are kindred spirits…

Vampires generally aren't afraid of things that go bump in the night, but Merit and Ethan are extra jumpy after a recent attack by a dark sorcerer. So when they learn that someone is messing with graves in Chicago's cemeteries, stealing skulls and snatching souls, they fear that their powerful foe might be back for even more magical vengeance.

But after a specter begins haunting Cadogan House—and targeting vampires—they realize that their being taunted by an altogether different sort of monster. A ghoulish villain straight out of the Windy City's urban legends is on the prowl—and he won't stop until he's killed again…
---
⭐⭐⭐⭐⭐
---
Phantom Kiss is a short little novella with all the things we love about the Chicagoland Vampires series. It's funny, fast-paced, action-packed, and it has the right amount of romance and smut to balance it all.
The story kicks off with a sweet moment between Merit and Ethan, as they celebrate their life together. It's a cool little glimpse into what is certainly going to be an important moment in their lives, and it's a delight to see how they deal with it all: with lots of banter and quick wit.
Soon enough, though, things start getting mysterious. This is the usual 'oh-no-trouble's-afoot-let's-investigate' thing that happens in all Chicagoland books, but it doesn't fail to be entertaining. Neill knows how to write interesting mystery arcs, and this time is no different.
Phantom Kiss delivers a humorous and creepy ghost story. Merit and Ethan find themselves living in a haunted house, and reading about them fighting a ghost is probably more enjoyable than it should be. The plot progression is very well done, the little twists are surprising, and the conclusion is like icing on the cake.
Overall, this novella is a very good addition to the Chicagoland Vampires series. It is a quick and enjoyable read, with an epilogue that gives a sweet ending to a good story. I definitely recommend it to Chicagoland fans, if only so they can have a little extra Merit and Ethan in their lives.
---
ARC PROVIDED VIA NETGALLEY IN EXCHANGE FOR AN HONEST REVIEW.  
---