---
---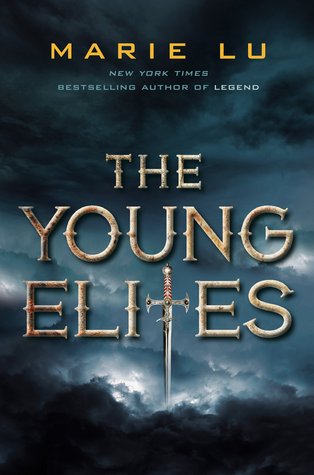 THE YOUNG ELITES (The Young Elites #1)
Marie Lu
Published: October 7th 2014 by G.P. Putnam's Sons Books for Young Readers
Pages: 355
I am tired of being used, hurt, and cast aside.

Adelina Amouteru is a survivor of the blood fever. A decade ago, the deadly illness swept through her nation. Most of the infected perished, while many of the children who survived were left with strange markings. Adelina's black hair turned silver, her lashes went pale, and now she has only a jagged scar where her left eye once was. Her cruel father believes she is a malfetto, an abomination, ruining their family's good name and standing in the way of their fortune. But some of the fever's survivors are rumored to possess more than just scars—they are believed to have mysterious and powerful gifts, and though their identities remain secret, they have come to be called the Young Elites.

Teren Santoro works for the king. As Leader of the Inquisition Axis, it is his job to seek out the Young Elites, to destroy them before they destroy the nation. He believes the Young Elites to be dangerous and vengeful, but it's Teren who may possess the darkest secret of all.

Enzo Valenciano is a member of the Dagger Society. This secret sect of Young Elites seeks out others like them before the Inquisition Axis can. But when the Daggers find Adelina, they discover someone with powers like they've never seen.

Adelina wants to believe Enzo is on her side, and that Teren is the true enemy. But the lives of these three will collide in unexpected ways, as each fights a very different and personal battle. But of one thing they are all certain: Adelina has abilities that shouldn't belong in this world. A vengeful blackness in her heart. And a desire to destroy all who dare to cross her.

It is my turn to use. My turn to hurt.
---
⭐⭐⭐
---
"Tell me, little wolf. Do you want to punish those who have wronged you?"
I read The Young Elites for the first time last year and gave it a 2 stars rating. I decided to give the book another chance after talking to a few people who loved it and said the next installment was sooo much better than this one. So I'm happy to say I'm giving The Young Elites 3 stars this time around!
When I started my reread I was pleasantly surprised by the beginning of Adelina's story all over again. I'd forgotten how dark and twisted The Young Elites was, something I absolutely adore in books, especially of the YA variety. Marie Lu did a great job with the world-building and with introducing Adelina as a character who was angry and afraid and who'd use those emotions to fight for her life.
The introduction to the rest of the Elites was also well done. It was action packed and exciting, revealing more about each of the characters as the story progressed. Two of the Elites actually had POVs in this book: Enzo and Raffaele. Enzo was cold and calculating and ambitious, but he fell a little flat for me at times. Now Raffaele was by far the most compelling of them all, with his otherworldly beauty and sad smiles and all that his work as a consort entailed.
Another character that graced us with his view of things was Teren, an Inquisitor soldier with a secret to keep. I really really liked him. He was intriguing and just as twisted as the rest of them, maybe even more. He also provided us with the insight into Inquisition Axis and the Queen and King, which was interesting to read about.
Things did get a little sour for me around the 37% mark (or page 133 out of 355), when Adelina and Teren met for the second time. During my first read through I remember thinking she was the stupidest person alive to agree to what he offered. That was actually the main reason why i gave the book 2 stars once I finished it, since everything after that point is tied to the choice Adelina made. But the second time around I could understand why she did what she did.
I also didn't buy into the romance between Adelina and Enzo. It verged on instalove, in my opinion. I couldn't connect to it as I read, so I wasn't hurt by it or cared much when things went south. I could've done without any romance at all, to be honest. Just Adelina kicking ass and learning to control her powers and wondering what it would be like to have everyone fall at her feet.
Because of that, the last few chapters with Adelina kind of fell flat to me. I couldn't connect to the pain she was feeling, so one of the big twists didn't affect me much. I did appreciate the way Marie Lu was able to write another awesome fight scene, though!
One thing I loved about The Young Elites was the epilogue. It was just a few pages long, but it was engaging and it introduced a new character who sounded absolutely fascinating. And since I enjoyed this book a lot better the second time around, I'm actually excited about starting the next installment. 😀
---