---
---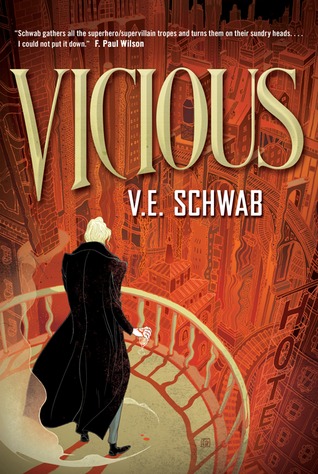 VICIOUS (Vicious #1)
V. E. Schawb
Published: September 24th 2013 by Tor
Pages: 364
Victor and Eli started out as college roommates—brilliant, arrogant, lonely boys who recognized the same sharpness and ambition in each other. In their senior year, a shared research interest in adrenaline, near-death experiences, and seemingly supernatural events reveals an intriguing possibility: that under the right conditions, someone could develop extraordinary abilities. But when their thesis moves from the academic to the experimental, things go horribly wrong. Ten years later, Victor breaks out of prison, determined to catch up to his old friend (now foe), aided by a young girl whose reserved nature obscures a stunning ability. Meanwhile, Eli is on a mission to eradicate every other super-powered person that he can find—aside from his sidekick, an enigmatic woman with an unbreakable will. Armed with terrible power on both sides, driven by the memory of betrayal and loss, the archnemeses have set a course for revenge—but who will be left alive at the end?
---
⭐⭐⭐⭐⭐
---
"Plenty of humans were monstrous, and plenty of monsters knew how to play at being human."
Forgive me for the yelling, but…
OH MY GOD??? THIS WAS SO SO SO SO!!!! FREAKING!!! GOOD!!!
It was so twisted and dark at times, and the author did such an amazing job weaving all of the plot points together. I have to admit that the shift in POVs and going from Present to Past kind of threw me a little at the beginning, but the more I read the more I fell in love with it.
We were were told about the characters's stories in pieces through out the book, and I'm a little surprised to say I actually loved all of them? That rarely happens to me, but they were all so well developed and layered that I had heart eyes the entire time I had this book in my hands. They were all so fascinating to me because they all had troubles to overcome, and you couldn't tell who was the villain and who was the hero. That was so refreshing!
Also the way people got their abilities? And how they manifested? I loved it so much!! It was such an interesting take on it, and it served as a great way to get to know what kind of people the characters were.
And the ending, oh my god! It was so so so great! I hugged my copy of Vicious to my chest for about five minutes after I finished reading it, saying 'oh my god' over and over again. It was so satisfying reading about all of the pieces coming together in one of the most twisted endings I've read in a long time!
I'm so in love with this book, someone help.
Everyone should read Vicious, and those who haven't should be ashamed of themselves.
---